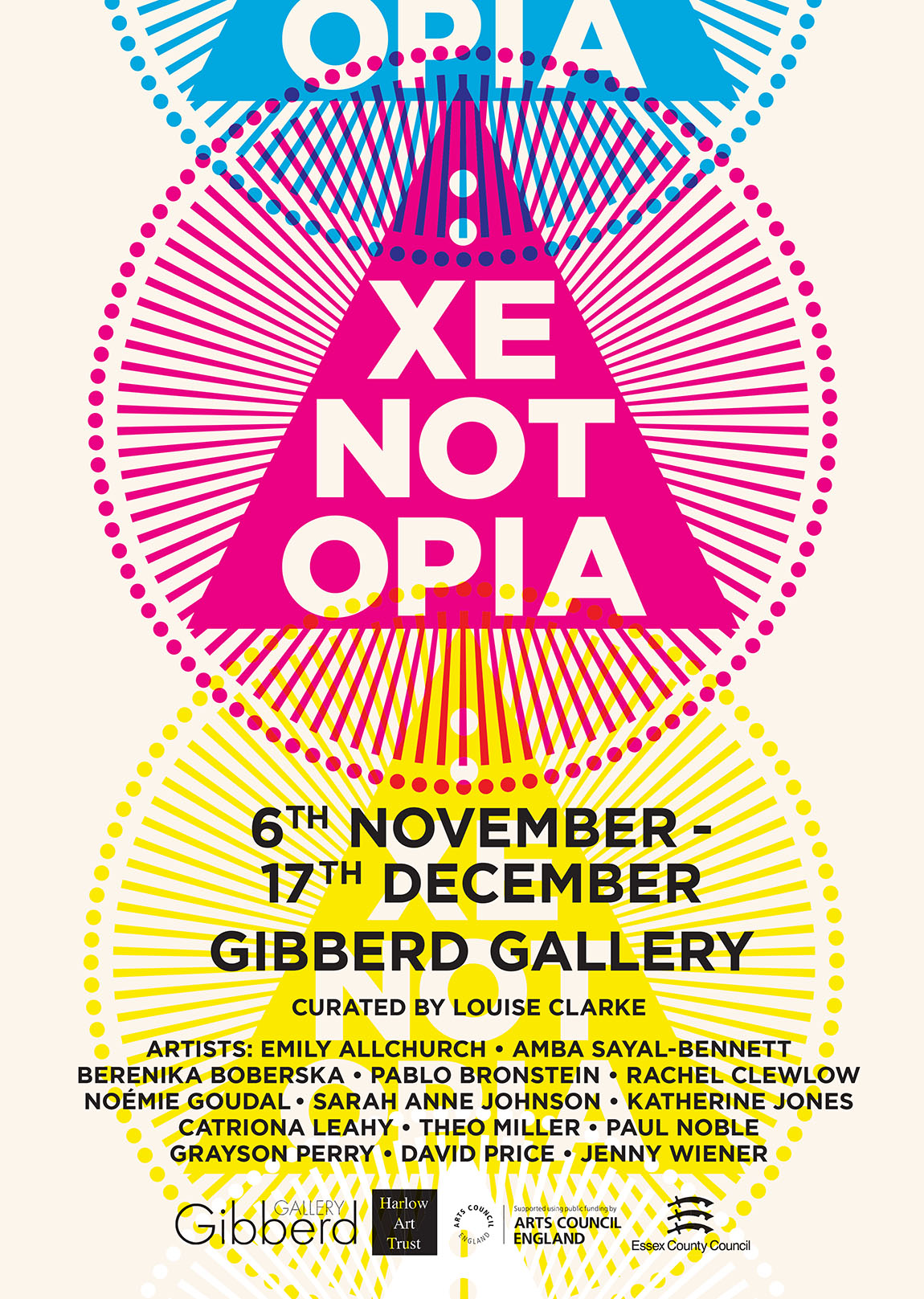 David Sheppard compiles "Xenotopia" Playlist — The Sound of Mountains
01.12.15
Earlier this year, I was invited by artist/curator Louise Clarke to compile a playlist of music to accompany a group art show she was putting together called :Xenotopia. The exhibition, which is currently running at the Gibberd Gallery, Harlow (and includes some fabulous printed works by the likes of Grayson Perry, Pablo Bronstein and Paul Noble, amongst many others), explores strange, fictitious architecture and something called xenospaces – "imagined, meta-geographic locations that exist only theoretically, ethereally or subconsciously."
'Xenotopia' is a term originally coined by British writer Robert McFarlane to describe an uncanny landscape. It, at least partially, refers back to Thomas More's 1516 book, Utopia, which depicted a fictionalized island society, anticipating by several centuries the utopian visions of authors such as Samuel Butler and William Morris, not to mention the other-side-of-the-coin dystopias painted by the likes of Aldous Huxley, H.G. Wells, George Orwell and William Golding.
It's a wonderful subject for an art show, obviously, and it was very intriguing for me to start thinking about it in terms of sound and music. It certainly got me ruminating about my own musical practice, which often involves the conjuring or evoking of place, space or location through wordless composition. What is it about music, arguably the most fluid and ephemeral of the arts, I found myself wondering, that lends itself so readily to the suggestion of a physical locality?
Having a geography-specifying title is, obviously, very often key to the process of evocation in instrumental music. Indeed, there's probably a learned PhD to be written about the art of titling in music without libretto or lyrics (as there must surely already have been studies about the significance of naming abstract paintings). There are some self-evident examples of titling as auto-suggestion: Miles Davis's 1960 album Sketches of Spain, for example, leaves the listener in no doubt about its subject, although the liberal use of castanets and melodies borrowed wholesale from Joaquín Rodrigo's Concierto de Aranjuez might have done the job without the need for such overt direction. Something similar could be said of John Coltrane's early '60s albums Olé (with its flamenco-like whole-tone chord changes) and Africa Brass (horns mimicking the sound of elephants trumpeting across the wide savannah), although a 1968 album by John's wife, Alice, called Journey in Satchidananda, replete with exotic harps, ouds and tambouras, elevates this approach toward the mystic dimension, conjuring, as it does, India as a Hindu-spiritual 'idea' (or, arguably, 'ideal') as much as a specific geographic location.
All that said, would anyone know that 1982's Ambient 4: On Land was Brian Eno's nostalgic, neo-Proustian attempt at summoning the haunts of his rural Suffolk childhood, rather than simply an abstract album of painterly ambient textures, if it weren't for titles like 'Lizard Point' or 'Dunwich Beach, Autumn, 1960' (not to mention the composer's copious explanatory sleevenotes)? Would the limpid woodwind, cello and piano of Virginia Astley's 1983 From Gardens Where We Feel Secure longplayer conjure the feeling of idyllic English summer days with such immediacy and poignancy if it weren't for tracks named 'Out On The Lawn I Lie In Bed', 'Too Hot For Peacocks', and so on?
Taking all this to another level, and chiming rather neatly with the remit of :Xenotopia, we could also consider avant-garde trumpeter Jon Hassel and his soi-disant Fourth World music series – albums of ineffably tropical, purposefully ersatz 'ethnic' instrumentals made by feeding his instrument through electronic effects and vocoders. The resulting wordless sonic exotica belongs to no readily identifiable existing global place, provenance, genre or tradition, yet seems, counter-intuitively, 'authentic' and readily suggestive of a culturally rich locale – one that's simply not been physically discovered yet.
Some of these ideas about music's potential for summoning locales were already in my mind as I was worked on my album, Vertical Land, last year. The previous year had been a peripatetic one for me; through various work commitments I'd found myself, within the period of little more than two months, in the fjord land of Norway, the Black Mountains of Wales, the volcanic Cyclades Islands of Greece and cowering beneath cloud-draped Table Mountain, in Cape Town, South Africa. Each of these visually dramatic upland locales came with a sonic signature, whether it was the curiously minimalistic pealing bells of Greek churches, the constant plash of rain on the streets and roofs of Bergen (or the screeching rhythms of the city's cable car as it plunges down from vertiginous Mount Ulriken), the languid jazz and indefatigable township house music of the Cape Flats, or the spirited, arcane folk music of a Brecknockshire village pub.
In each location I'd made short recordings, either on my iPad or Dictaphone, building up a sort of library of aural snapshots. By the end of my travels, I'd accrued a substantial sonic 'mood-board', a resource that I could dip into as one might flick through sets of holiday snaps, instantly conjuring the atmosphere and 'feel' of the place in which the particular sonic imprint was captured. For me, at least, sounds have a way of piquing memory that is somehow far more redolent than that evoked by visual imagery, and it was this notion that, at least vaguely, informed the structure and approach of my album – a series of musical essays designed to recapture that part-scarifying, part-liberating feeling of existential inconsequentiality, of being a tiny dot, an infinitesimal human presence, set against a vast, monolithic landscape, a long, long way from home.
Whether I was successful in transferring these ideas into music is for others to judge, of course, but I do think, and some of the reviews of the album bear this out, that Vertical Land is as much a 'place', with all the multi-plane, three-dimensionality such a description suggests, as it is a purely sonic phenomenon. Perhaps, ultimately, all recordings (all musics?) proffer kinds of 'places' (or Species of Spaces, as George Perec's wonderful, so-named book has it) – multi-dimensional worlds that we inhabit, or are immersed in, to a greater or lesser degree. The modern recording studio (or digital music software platform), with its multitude of potential virtual effects, is, effectively, a tool of infinite spatial possibility, a means by which to conjure boundless illusory environments that might, potentially at least, eclipse even the awe-inspiring panoramas of the physical world around us.
That sounds a lot like Xenotopia to me.
David John Sheppard

"Xenotopia" is showing now until 17th December at The Gibberd Gallery in Harlow.
http://www.gibberdgallery.co.uk/index.php/current-...
David John Sheppard's Vertical Land is out now on Village Green.
http://villagegreenrecording.co.uk/news/david-shep...