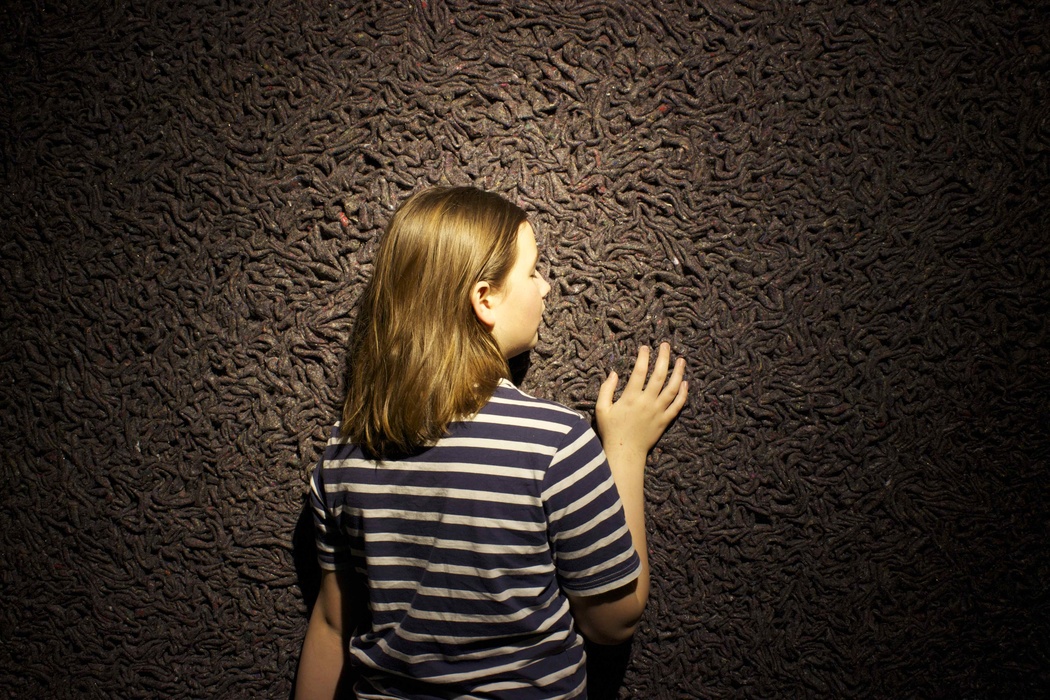 'AMONG REMOTE LOST OBJECTS'
14.05.15
A sound-deadening 'room within a room' occupies the first floor of the building, creating the feeling of being within and underneath. The surface of the chamber is made from recycled wool textiles, resonant with memory and primal association. The chamber oscillates between darkness and light, unsettling and disorientating the viewer, yet surrounding them with warmth. Upstairs, another room is flooded with sound, light and air, containing 'Listening Objects'; disorientating micro-installations that change our perception of sound and space.

Both inside and outside the chamber, the blind singer Victoria Oruwari performs a score written by composer John Matthias in response to this work. Over the past months Andrews, Matthias and Oruwari have collaborated on a vocal score first generated in the anechoic chamber at UCL, exploring emotion, resonance and non-resonance through voice and violin. In the upstairs gallery, Matthias has developed this score through a 'neurogranular sampler', a digital processing programme that mimics the action of neurons to produce music rich in memory and texture.
Oruwari will perform with the work on the opening night and every afternoon on the half hour between 2 and 5 pm with the exception of the 6th June when she will perform between 2 and 3 pm only. The performance lasts approximately three minutes and alternates between the chamber and another room in the gallery. At other times you are free to experience the chamber for as long as you wish, numbers permitting.
On 6th June at 3.15 pm philosopher Jonathan Ree will respond to the work as part of an informal discussion including Tabatha Andrews and Victoria Oruwari- all welcome. This will follow the last performance by Oruwari at 3pm.
For more information please click here.